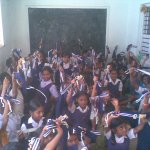 There have been many instances where people have lost their dear ones just because of illiteracy and ignorance about the education system. Having said this, there also have been instances where parents have forced their children to schools with a thought that their kith and kin should not face the same problems or should not lead a vulnerable life without education.
Sometimes we discuss as to what are we doing for those under privileged being educated lot. And most of the times we end up only in discussions and debating about the role of the government.
But there are few people who start doing something from where we ended over the topics just by discussions. And here's the group which has started making a difference to those under privileged kids.
Most of the poor children have been the victims of the social parity while pursuing their primary education which forms a first impression in their tender minds and hearts. Among such parities is not being able to afford a school uniform through which they build relationships with others in the school.
We are proud of ourselves that we have succeeded in our mission where we have used our money to buy them a school uniform for almost 40 students at this government primary school. The faces were well known as this was not the first visit to the premises.
One must be physically present there while the distribution carried out to witness the joy and happiness in the eyes of those little soldiers. Kudos to the entire team behind this noble cause and hope we strive for our fellow citizens very often reminding ourselves and others that we must care for others. And the best part is "WE CARED FOR THEM" through this event.