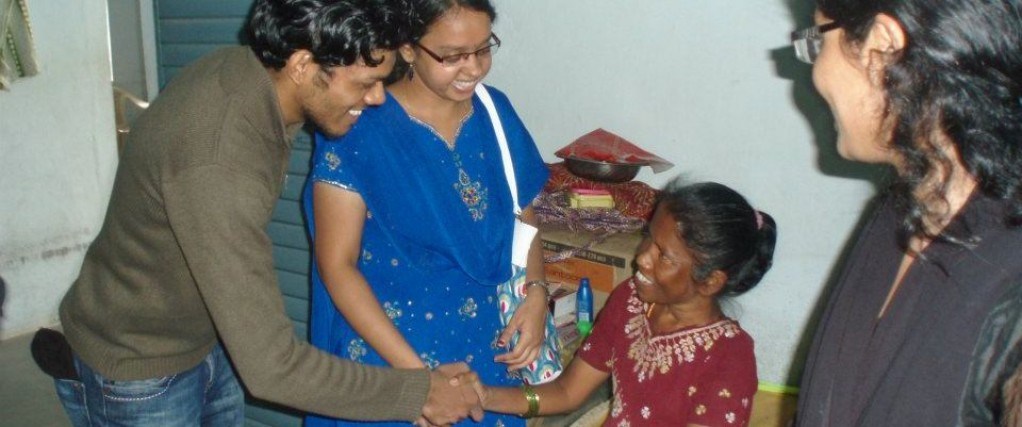 It was the last day of the year and in few hours there is the coming of a new year, almost everyone around the city were gearing up for the new year bash….
But there happens something unusual…
We had few students from Avanthi Degree & PG college approaching WHY Foundation asking for guidance to do something for the old age people….and we were very happy to support these youngsters who were kind at heart keeping aside their own priorities for the new year party.
With a very limited scope of idea, with a very limited budget, with a very little support from their pals….but with a lot of courage and determination…to do something for the poor, around 10 students gathered together and bought fruits and biscuit packets for 100 old ladies at Govt Home for the Aged and Disabled, Amberpet…and have spent their time with them spreading cheer amongst all of those poor ladies by interacting with them.
The ladies at the old age home felt very happy with this visit by the college students and some were in tears, they felt like that they have seen their own grand children which was a touching moment for all of us present there at the venue. Few ladies at the home were so happy that they sang songs for these students
The event which took place might be a very short and sweet breeze of happiness for the old ladies….but the fact remains that the college students have taken that one step further to share the warmth of love and affection…Kudos to all the participants from Avanthi College for this old age home visit..
WHY Foundation feels proud to be a part of such noble cause and would like to support many more college groups like these for working towards Humanity.
Wonderful moments captured here: