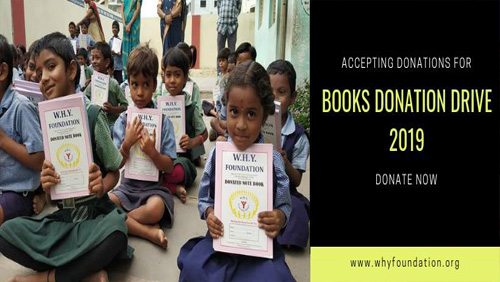 We all accept and are committed to the fact that today's children are future citizens and for the children to be ready to face all the challenges they would face in their life, they need to be properly equipped with powerful tools. The tools here are not money and riches but education and ability to judge good and bad.
This program took its birth inspiring from the very fundamental right of Indian Constitution – Right to Education. The government of India established many schools where children get their education for free. This free education includes all the textbooks they would need for their academic year and tuition expenses. After all this, we are still seeing many dropouts from the primary schools.
This phenomenally increases as we move towards rural India. As we dig deep, we found the main reason for this is not many students from these government schools can afford to buy the notebooks they would require for the academic year to continue their education.
The project called BOOKS DONATION DRIVE is an annual commitment from W.H.Y.Foundation to help all these needy students providing them with notebooks required for their academic education. Our team will connect with headmasters and principals from various government schools in Hyderabad, Karimnagar and RangaReddy districts to find out the number of children studying in their schools and would then plan the project accordingly.
This activity would commence in March/April every year and we would plan our donation program in June so that the books would reach the needy at the start of their academic year.
Every year on an average around 4000 to 5000 students avail themselves of this program to continue their education. Till now we are able to provide notebooks for around 20000 students in these government schools since the commencement of the program in 2008.
We are planning to donate notebooks to around 14000+ students this year. This count would many times be higher or lower when it comes to ground reality since we give away the books to the kids only present on the day of the program. We hence get ready for extra books in our kitty.
Once we plan the dates and schools to visit, our volunteers personally visit these schools carrying all the notebooks in a private transport vehicle and hand over the books to the children. We also get to spend our time with the children answering their questions about their future plans. The schools are also kind enough to welcome us every year and allow us to spend one full day there.
This year we planned our visits on every Saturday of June till third Saturday of July. We would cover schools in Parigi (Doma mandal) of RangaReddy district and many small government schools in Hyderabad and Karimnagar districts also.
Please join us in our fight against dropouts from Schools. Let us all pledge to support these kids with our small contributions to build the citizens of tomorrow.
We have started collecting donations and request you to come forward for this social cause and donate generously in cash or kind
You can donate in different ways, To know more on how to donate visit www.whyfoundation.org/donate
Note: Now all contributions made to W.H.Y. FOUNDATION are eligible for a tax deduction of 50% u/s 80G of the Income Tax Act, 1961. For more details please write to us at knowus@whyfoundation.org
~~~~~~~~~~*************~~~~~~~~~~*************~~~~~~~~~~*************~~~~~
Apart from donating to WHY FOUNDATION for Books Donation Drive – 2019, you can still do more to help us reach more like-minded people.
Below is a list of activities which we believe you can do being in your home or office, all you need is your will and a good Internet connection.
You can support Books Donation Drive – 2019 by:
You can also update your Facebook, Twitter and other social accounts profile or cover page with Books Donation Drive – 2019 Poster to let your connections know about this cause
Share Books Donation Drive – 2019 Poster with on your Social Networks with hashtag as #BooksDonationDrive2019 #WHY #WHYFOUNDATION #BOOKSDONATIONDRIVE
You can share the attached Poster of Books Donation Drive – 2019, to your contacts in WhatsApp. Maybe you can use the broadcast option in WhatsApp to send this poster your contacts
You can print this poster and put it on your Bike or Rear Window of your car so that while you are commuting to work or any other place, people can know about Books Donation Drive – 2019. Example you can see here: www.instagram.com/whyfoundation/
Join us on the event date and participate in books distribution and experience the Joy of Giving Different ways to donate to W.H.Y.FOUNDATION: goo.gl/nZWseRBooks Donation Drive – 2019 Poster can be downloaded from this link: poster will be published soon
~~~~~~~~~~*************~~~~~~~~~~*************~~~~~~~~~~*************~~~~~